England High School FFA & FBLA attended the Arkansas Department of Education Division of Career and Technical Education's 6th annual CTSO Leadership Day at the Arkansas State Fair today, October 17th! Students and advisers were able to network with students and other advisers from all over the state. Fun was had by all! Thank you to ESD for allowing our students to participate in this!

Congratulations to Allison Mackey! 👑 England High School Homecoming Queen 2023! Photos by: Christy Mackey

Thank you to Greenway, PTI, Harps, and the MANY Parents/Guardians that have donated or delivered water to both schools this morning. This allows us to give each child a bottle of water several times throughout the day..
England is currently under a boil order. The water department is working to fix this as quickly as possible. Please do not drink the water. We will still be in school today. Once this is lifted we will let you know!!

Join us in dressing up and raising money!! DRESS CODE WILL BE ENFORCED. NO MASKS ALLOWED!! Stickers are $2.00. EXACT CHANGE ONLY 👻 We hope to make this an annual occurrence.... LET'S HAVE FUN!!! Call Mrs. Melanie @ 501-842-2031 Ext. 2104 if you have any questions.

Come join our pride!!

EES Chocolate Fundraiser starts today!! Your student will be coming home with a box of chocolate bars if they returned their permission form. Happy selling!

EES Parents/Guardians - Have you turned in your chocolate form? Chocolate fundraiser forms were sent home again today with students. If you haven't turned yours in yet, please return it soon. Chocolate sales start Tuesday, October 10th! Need another form? You can find one here -
https://shorturl.at/hlyBE
Looking for work that matters? Consider substitute teaching in England School District! Kelly Education—our partner for substitute talent—offers free training and steady work or flexible schedule options. This is an opportunity to do work you can feel good about within our own community. Learn more! The Kelly Education - Substitute Employee Interest Form can be accessed here: shorturl.at/nFT15 Connect with Kelly Education's Recruiting Team: Phone: 800.528.0049, Opt 2 E-Mail:
EDSERecruiting@kellyservices.com

Come join our PRIDE!!!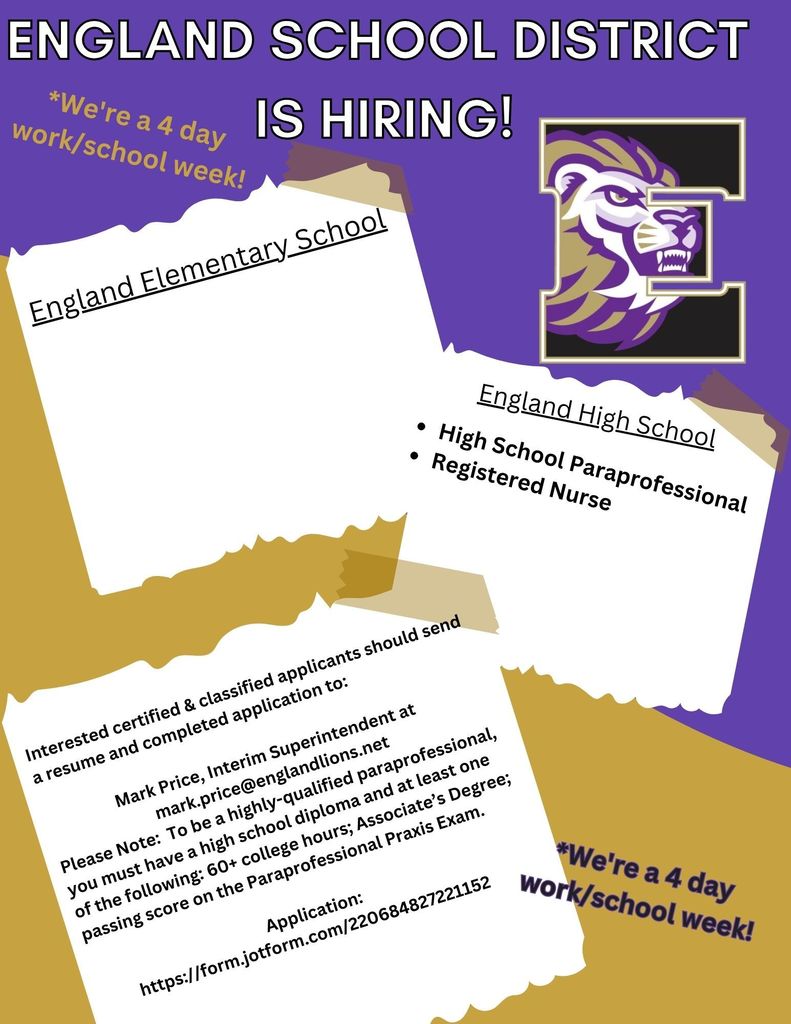 Congratulations to the 2023-2024 FBLA Officers!

Come join our PRIDE! We're looking for a Registered Nurse! Look below for information on how to apply.

EHS would like to thank All Souls Church in Scott  for donating to our backpack program. Our backpack program sends home meals with students in need every weekend. We appreciate the support! 💜💛

Homecoming Spirit Days! We would love to see everyone participate!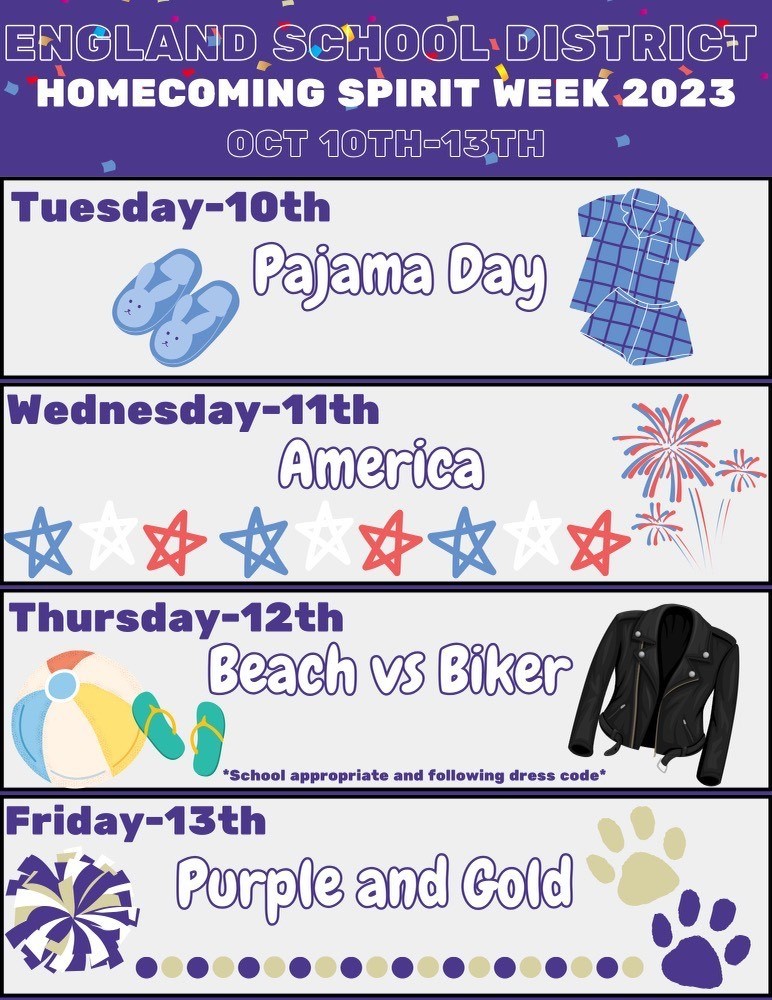 This morning EHS had Mr. Robb Holla come and speak to the students about Anti-Bullying and Social Media Awareness! He included several students in different activities and everyone seemed to be very engaged!!

EHS FBLA Food Drive! We will start collecting food on Thursday, September 28th and will stop on Wednesday, October 25th! We will have a box at the EHS Office! Email Mrs. Melanie @
melanie.martin@englandlions.net
if you need more information. You may also call her @ 501-842-2031 Ext. 2104. Thank you, EHS FBLA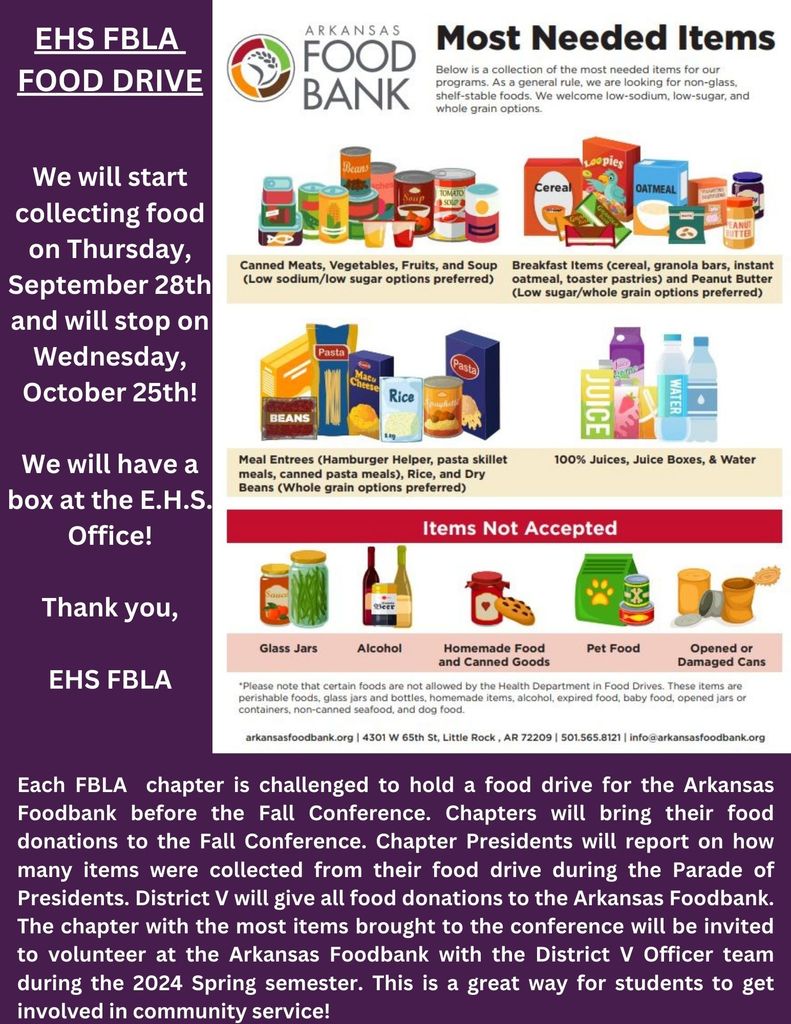 BLOOD DRIVE!!!!! Tuesday, September 26th from 9:00AM-2:00PM in the EHS safe room. Please consider coming out and being a donor. There is a national shortage of blood. Not to mention we depend on your donations to also help our school qualify for a scholarship for a Class of 2024 Senior!

Attention Class of 2024 Seniors/Parents/Guardians:

This week @ EHS!